Citydesconto

Produtos Originais com Entrega em 5 DIAS!
Compre SEM Login | Site 100% Seguro!
13.623 Anunciantes Ativos [ANUNCIAR]
Cd Bootleg Led Zeppelin The Music That Rocked Us 4 Cd's Original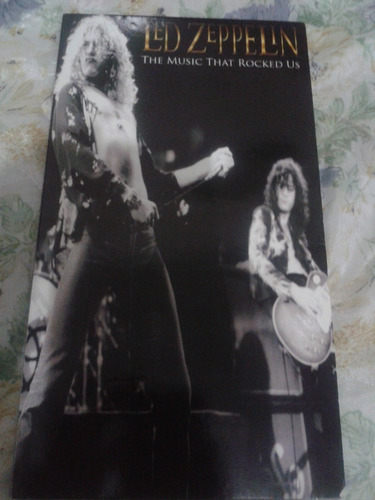 valor=CdBootlegLedZeppelinTheMusicThatRockedUs4CdsOriginal_386_53
R$541,14
R$386,53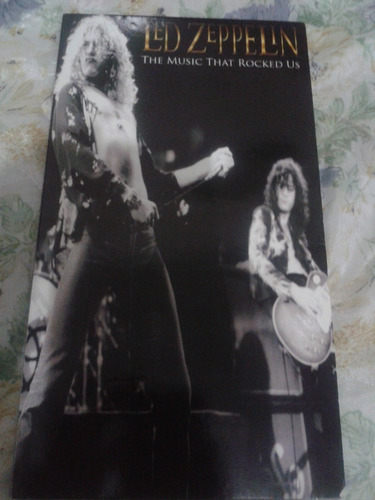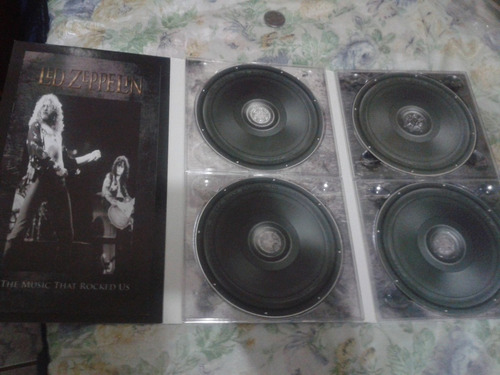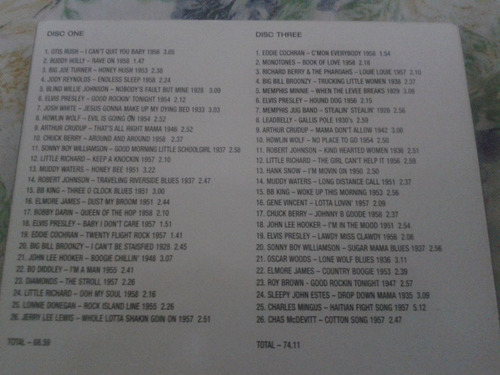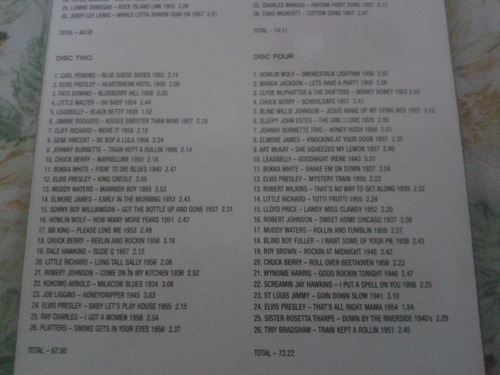 3626 itens Vendidos |
213 itens Disponíveis
Comprando no Boleto: Entrga em 5 dias
Comprando no Cartão: Entrga em 35 dias

*Seu boleto também pode ser pago com
seu CARTÃO DE CRÉDITO.


Produto Original

Atendimento Imediato!

Chega em 5 dias!

Site com Certificado de Segurança

Compre SEM Login!
Descrição
Cd Bootleg Led Zeppelin The Music That Rocked Us 4 Cd's Original
Bootleg importado (UK) e raríssimo, 4 CD's commúsicas que iluenciaram o Led Zeppelin. Blues, rock & roll, rockabilly, etc. Ex.: Howlin Wolf, Muddy Waters, Bo Diddley, Carl Perkins, Gene Vincent e muito mais. 
Ano: 2010
Gravadora: Music Melon / MCPS
Box e CD's em ótimo estado de conservação.

CD 1
Otis Rush - I Can't Quit You Baby
Buddy Holly - Rave On
Big Joe Turner - Honey Hush
Jody Reynolds - Endless Sleep
Blind Willie Johnson - Nobody's Fault But Mine
Elvis Presley - Good Rockin' Tonight
Josh White - Jesus Gonna Make Up My Dying Bed
Howlin Wolf - Evil Is Going On
Arthur Crudup - That's All Right Mama
Chuck Berry - Around And Around
Sonny Boy Williamson - Good Morning Little School Girl
Little Richard - Keep A Knockin
Muddy Waters - Honey Bee
Robert Johnson - Traveling Riverside Blues
BB King - Three O Clock Blues
Elmore James - Dust My Broom
Bobby Darin - Queen Of The Hop
Elvis Presley - Baby I Don't Care
Eddie Cochran - Twenty Flight Rock
Big Bill Broonzy - I Can't Be Satisfied
John Lee Hooker - Boogie Chillin'
Bo Diddley - I'm A Man
Diamonds - The Stroll
Little Richard - Ooh My Soul
Lonnie Donegan - Rock Island Line
Jerry Lee Lewis - Whole Lotta Shakin Goin On

CD 2
Carl Perkins - Blue Suede Shoes
Elvis Presley - Heartbreak Hotel
Fats Domino - Blueberry Hill
Little Walter - Oh Baby
Leadbelly - Black Betty
Jimmie Rodgers - Kisses Sweeter Than Wine
Cliff Richard - Move It
Gene Vincent - Be Bop A Lula
Johnny Burnette - Train Kept A Rollin
Chuck Berry - Maybelline
Bukka White - Fixin' To Die Blues
Elvis Presley - King Creole
Muddy Waters - Mannish Boy
Elmore James - Early In The Morning
Sonny Boy Williamson - Got The Bottle Up And Gone
Howlin Wolf - How Many More Years
BB King - Please Love Me
Chuck Berry - Reelin And Rockin
Dale Hawkins - Suzie Q
Little Richard - Long Tall Sally
Robert Johnson - Come On In My Kitchen
Kokomo Arnold - Milkcow Blues
Joe Liggins - Honeydripper
Elvis Presley - Baby Let's Play House
Ray Charles - I Got A Women
Platters - Smoke Gets In Your Eyes

CD 3
Eddie Cochran - C'mon Everybody
Monotones - Book Of Love
Richard Berry and The Pharoahs - Louie Louie
Big Bill Broonzy - Trucking Little Women
Memphis Minnie - When The Levee Breaks
Elvis Presley - Hound Dog
Memphis Jug Band - Stealin' Stealin'
Leadbelly - Gallis Pole
Arthur Crudup - Mama Don't Allow
Howlin Wolf - No Place To Go
Robert Johnson - Kind Hearted Women
Little Richard - The Girl Can't Help It
Hank Snow - I'm Movin On
Muddy Waters - Long Distance Call
BB King - Woke Up This Morning
Gene Vincent - Lotta Lovin'
Chuck Berry - Johnny B Goode
John Lee Hooker - I'm In The Mood
Elvis Presley - Lawdy Miss Clawdy
Sonny Boy Williamson - Sugar Mama Blues
Oscar Woods - Lone Wolf Blues
Elmore James - Country Boogie
Roy Brown - Good Rockin Tonight
Sleepy John Estes - Drop Down Mama
Charles Mingus - Haitian Fight Song
Chas McDevitt - Cotton Song

CD 4
Howlin Wolf - Smokestack Lightnin
Wanda Jackson - Lets Have A Party
Clyde McPhatter and The Drifters - Money Honey
Chuck Berry - Schooldays
Blind Willie Johnson - Jesus Make Up My Dying Bed
Sleepy John Estes - The Girl I Love
Johnny Burnette Trio - Honey Hush
Elmore James - Knocking At Your Door
Art McKay - She Squeezed My Lemon
Leadbelly - Goodnight Irene
Bukka White - Shake Em On Down
Elvis Presley - Mystery Train
Robert Wilkins - That's No Way To Get Along
Little Richard - Tutti Frutti
Lloyd Price - Lawdy Miss Clawdy
Robert Johnson - Sweet Home Chicago
Muddy Waters - Rollin And Tumblin
Blind Boy Fuller - I Want Some Of Your Pie
Roy Brown - Rockin At Midnight
Chuck Berry - Roll Over Beethoven
Wynonie Harris - Good Rockin Tonight
Screamin Jay Hawkins - I Put A Spell On You
St Louis Jimmy - Goin Down Slow
Elvis Presley - That's All Right Mama
Sister Rosetta Tharpe - Down By The Riverside
Tiny Bradshaw - Train Kept A Rollin
Obs: O envio grátis foi revogado pelos distribuidores...
Mais visitados da semana
Todos os direitos reservados 2021
www.citydesconto.com.br

Escritório dos atendentes online [+]
,
CEP:
contato@citydesconto.com.br
Entrega em 5 Dias para Todo o Brasil


Termos e Condições | Política de Privacidade | Sobre nós | Contato